LAWYERS are denouncing the imposition of the five-hour curfew following the standoff between mutineers facing coup d'etat charges and government forces in Makati City this afternoon, saying it was unlawful and a clear violation of the Constitution.
President Gloria Macapagal-Arroyo declared a curfew imposed from 12 midnight to 5 a.m. Friday. The directive covers Metro Manila and Regions 3 and 4-A.
Senator Antonio Trillanes and Brig. Gen. Danilo Lim, both on trial for the mutiny at the Oakwood Apartments in 2003, led a daylong uprising that ended around 5:30 p.m. today. Both demanded the resignation of Arroyo over the "illegitimacy" of her presidency and the abuses of her government, among which are the unabated extrajudicial killings, the series of executive proclamations like EO 464 and PP 1017, and the "deliberate refusal or failure" of the government to probe and hold to account persons involved in controversies such as the "Hello,Garci" scandal and the fertilizer funds scam.
"The curfew imposition is unlawful and contrary to the Constitution — our right to liberty, our right to travel, our constitutionally guaranteed rights that cannot be curtailed or disregarded by executive order. The curfew is an illegal act," Senate Majority Leader Francis Pangilinan said in a statement.
Human rights lawyer Theodore Te of the Free Legal Assistance Group also lambasted the rather literal interpretation of "police power" by the police in imposing the curfew. As an inherent and extraordinary power of the State, Te said police power is exercised through legislation. "A curfew imposed without any law or legal order is illegal and unconstitutional."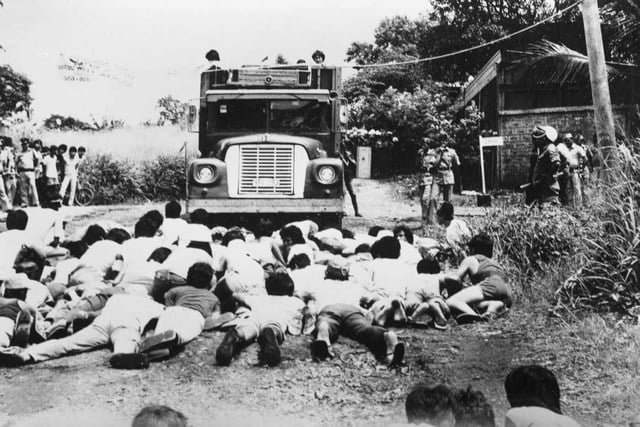 Lawyer and University of the Philippines professor Marichu Lambino likewise said the curfew is unconstitutional, and therefore void, even urging citizens to defy it.
Section 6, Article III of the Philippine Constitution states: The liberty of abode and of changing the same within the limits prescribed by law shall not be impaired except upon lawful order of the court. Neither shall the right to travel be impaired except in the interest of national security, public safety, or public health, as may be provided by law.
According to Lambino, this means that without legislation, the President has no authority to curtail freedom of movement. Also, such a directive needs to be in writing and has to be published. Pangilinan added that even curfews imposed in town and barangays need local ordinance.
"She's worse than (Ferdinand) Marcos. At least he had the decency to write it down," said Lambino. Shortly after Marcos placed the country under martial law in September 21, 1972, Marcos imposed a curfew, ordered arrests, banned public rallies, closed all mass media facilities, and ordered the takeover of public utilities.
The 1987 Constitution is supposed to be a safeguard against any similar abuses. In Section 18, Article VII of the current constitution, the President is vested with three types of powers — call out the armed forces to prevent or suppress lawless violence, invasion or rebellion; suspend the privilege of the writ of habeas corpus; or place the Philippines or any part thereof under martial law.
"(T)he President has not done any of these," Lambino said.
Lawyer Neri Colmenares, Counsels for the Defense of Liberties (Codal) spokesperson, said that without a legal basis for the imposed curfew, any arrests are therefore illegal.
But since tomorrow, November 30, is a national holiday, there will be no courts where one can contest the arrests and the imposition of an extended curfew should authorities say that its "post-operations" have not been completed.
It is not clear what activities are to be conducted under the "post-operations" of the Philippine National Police.
Stipulated under the curfew guidelines are the following:
The curfew covers Metro Manila, Central Luzon and Southern Tagalog
Curfew time is between 12 midnight and 5 a.m.
Curfew will cover all individuals who are residents and workers in the National Capital Region, Central Luzon and Southern Tagalog and those visiting or traveling these regions
Exemptions:
Transporters of products and services
People going to airports
Emergency cases
Drivers of public utility vehicles
Doctors and other health care practitioners on duty
Police and military personnel on duty
Emergency responders, such as ambulance personnel, paramedics, firemen
Night-shift workers
Legitimate media workers
Provincial bus passengers traveling to regions under curfew
Members of the diplomatic corps
Checkpoints will also be put up while carrying of firearms during the curfew hours will not be permitted. Violators will be released after curfew hours. Interior Secretary Ronaldo Puno said that while the authorities had already arrested those who participated in the Manila Pen siege, the police needs to scour the streets for plotters disguised in civilian clothes.
"Most of these soldiers or former soldiers who have been arrested were dressed in civilian clothes. When they hooked up with General (Danilo) Lim and (Senator Antonio) Trillanes they changed their garb and brought out weapons. So we want to make sure (that it will no longer be repeated)," Puno said.
Deputy presidential spokesperson Anthony Golez likewise assured that "this is not a reliving of martial law; this is just to complete post-operations."