Source: Rogue.ph
Forty years ago, Muhammad Ali and Ferdinand Marcos struck a million-dollar deal in New York to mount the 1975 "Thrilla in Manila," which went down in history as one of the greatest heavyweight fights of the 20th century. Using declassified WikiLeaks cables, new interviews, and recently digitized journals, PAOLO R. REYES asks: Was it also a skillfully engineered political cover-up to camouflage a nation tearing itself apart?
"You don't need the money, Mr. President." Muhammad Ali, slumped in his corner stool like a lifeless corpse, mumbled in reply to Ferdinand Marcos.
"I placed my bet on you, champ! Two-to-one!" the Philippine strongman, like an emperor bearing a laurel wreath for his gladiator, had whispered to the world heavyweight champion after climbing into the ring.
Inside the airconditionless Araneta Coliseum, a wall-to-wall sweep of 27,000 sweating bodies were chanting the warrior's name like a Roman mob: "Ali! Ali! Ali!"
From her ringside seat, Imelda Marcos, wearing a green silk dress she had worn in Havana to meet Fidel Castro two months earlier, winced at the carnage from behind dark sunglasses.
Her daughter Imee, who had just flown in from Princeton University, vigorously wielded a Chinese fan of white duck feathers to cool herself from the 100-degree heat.
Seated nearby were Hong Kong shipping tycoon Sir Y.K. Pao, the "Onassis of the Orient"; Japanese mogul Akio Morita, the silver-maned founder of Sony; and the Pulitzer Prize-winning novelist Norman Mailer.
All stood stupefied by the torrent of a thousand punches they had just been witness to.
Minutes earlier, a technical knockout by Ali in the 14th round had finally stopped the bloodletting—ending an hour of epic, unrelenting brutality that was "Thrilla in Manila," the electrifying final chapter of the Muhammad Ali-Joe Frazier fight trilogy.
It was also, history would later judge unanimously, one of the greatest boxing matches of the 20th century.
Telecast live at 10:45 A.M. (primetime in the US) from Philcomsat's Tanay station to over 770 million viewers in 68 countries, the eyes of the entire world were on the Philippines that muggy Wednesday morning of October 1, 1975.
But the 33-year-old pugilist formerly known as Cassius Clay, with his princely fight purse of $4.5 million ($18 million in today's money), wasn't the only winner that day.
As he silently marked his third anniversary of martial rule amidst mounting political unrest, President Marcos—with the charismatic Ali as his one-man propaganda machine and weapon of mass distraction—was the other triumphant victor, for whom the spoils were much greater.
"Marcos knew, from the history of Rome, that the emperor needed to humor the crowd with a circus and distract them from seething problems," shared the exiled Leftist leader Jose Maria "Joma" Sison from The Netherlands.
"He also learned from a fellow dictator, Mobutu—who had staged the Ali-Foreman fight in Kinshasa, Zaire on October 30, 1974— that the modern gladiators from the US could be hired at the right price to bring the big show to the Philippines." A Savage Business: Boxing champion Muhammad Ali with Philippine president Ferdinand Marcos. Photo by Dieter Ludwig/Gamma-Rapho via Getty Images
"No, no, no—that's bribery," answered Imelda Marcos, seated against a wall displaying her private collection of Pissaros and Picassos, when asked if she and her late husband coughed up $10 million to bring the "big show" to the Philippines back in 1975.
Her interrogator that afternoon was the British filmmaker John Dower, director of the recent Sundance-selected documentary Thrilla in Manila, who had filmed the aging Iron Butterfly in her 34th floor Pacific Plaza apartment in 2007.
The late dictator's widow, now 86, had played a pivotal role in organizing the fight 40 years ago. At a 1973 international boxing convention in the US, an emissary of Don King, then dubbed "the Ferrari of fight promoters," approached Louie Tabuena, chairman of the Games and Amusements Board (GAB) and general manager of Manila International Airport.
"Would President Marcos be interested to stage the third Ali-Frazier duel in Manila?" the emissary inquired on behalf of King, who had just recently closed a $10 million deal with Zairian dictator Mobutu Sese Seko for "The Rumble in the Jungle." (Before approaching Tabuena, King had already sent feelers to Anwar Sadat, the Nobel Peace Prize-winning president of Egypt, about the possibility of staging the Ali-Frazier finale in Cairo's Nasr Stadium, but King was apparently more keen on finding "another dictator in need of divertissement.")
"So [Tabuena] did what any smart salesman would do—he approached the wife first," revealed sports journalist Ted Lerner of boxing bible Ring magazine. "[Since] she had a flair for such things."
Imelda, who was with Tabuena in New York at the time, immediately saw the potential of hosting the boxing spectacle, according to Lerner.
After Tabuena was "surprised to learn that all they needed was a total of $2 million (a figure that was said to be nearer $5 million)" for the purse of the world's two richest fighters, he arranged a meeting between King and Mrs. Marcos, who subsequently rang up her husband in Malacañang Palace and convinced him that it was worth undertaking.
"The Philippine government put $1 million up front, with Ali guaranteed $4.5 million against 43% of all revenue. Frazier was promised $2.5 million against 22%. The American promoters, Don King and Bob Arum, took guarantees of all foreign television," wrote Enrique Gonzalez, sports editor of the now-defunct Philippine Journal.
A declassified WikiLeaks cable from 1975 offered a different valuation from the US State Department:"The $3 million dollars put up by the government of the Philippines for the [Ali-Frazier] fight exceeds the $2.5 million the US government paid Spain for the Philippine Islands [in 1898]."
Even today, the figures are inconsistent, and people continue to speculate as to how much it really cost the Philippines to mount "Thrilla."
But the Marcoses, seeking to legitimize their 10-year regime, had good reason for their enthusiasm over the superfight: it was, whatever the actual price, a multi-million dollar public relations investment to win the favor of the Filipino people and the world.
"That was the whole purpose of the fight," explained Mark Kram, who covered the match for Sports Illustrated, "to show [the world] that Manila was no longer an outlaw city, that foreign investment was secure, that martial rule, for all its connotations, was a cleansing instrument: Martial Law with a smile."
"The fight gave Imelda Marcos the opportunity to show that [the Philippines] was a major nation in the New World Order," Dower narrated in his documentary. "Her husband's regime had both the money and the motivation to showcase Muhammad Ali—the dictator's best hope for world attention."
"A fight is done where a dictator needs a fight," weighed in Dr. Ferdie Pacheco, Ali's ring physician. "To get the nation's mind off the revolution that's going on—and how nobody's eating. As soon as we got to [Manila] people quit fighting and put their rifles down. Everybody came to watch Ali."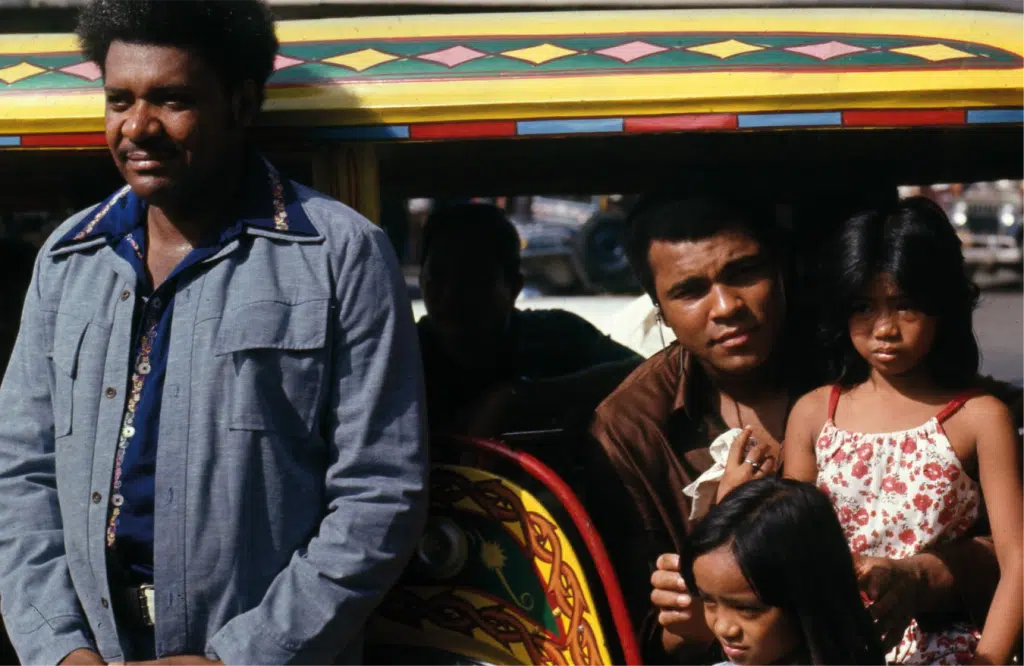 At around 6 A.M. on the morning of September 15, 1975, Muhammad Ali peered through the window of his Philippine Airlines plane as it hovered over the green fringes of greater Manila.
"Beautiful, beautiful country!" he exclaimed as the Douglas DC-10 jet made its descent on the Manila International Airport, where hordes of newsmen and photographers, hundreds of fans, and a huge Muslim delegation awaited his arrival on the tarmac. "Look at all those beautiful people down there. I gotta see more of this."
The timing of Ali's arrival could not have been more strategic.
By September 15, when he arrived two weeks before the October 1 fight to train at the Folk Arts Theater, the people of the Philippines were suffering under their third year of military rule under Marcos—and their patience for his glowing promise of a "New Society" was wearing dangerously thin.
Once a robust Southeast Asian nation in the 1960s, the country was now handicapped by a sagging economy, rampant corruption, and political insurgency.
A brewing revolution was underway. "[By 1975,] the Communist Party of the Philippines, the New People's Army, and the National Democratic Front had already succeeded in expanding to all regions of the country and in creating guerrilla bases and zones," says Jose Maria Sison.
There was widespread unrest among workers, who were seething with anger because of unemployment and the soaring prices of basic goods.
Weeks after the fight, a massive labor strike erupted at the La Tondeña liquor factory of beverage king Carlos Palanca Sr., which spread to more than 300 major workplaces until the first quarter of 1976.
"Following the anniversary festivities [of Martial Law], Marcos began a large-scale purge of several government departments," wrote Thomas Quinn in When 'Malakas' met The Greatest: Marcos' Philippines and the Thrilla in Manila.
"More than 2,000 officials were sacked on Sept. 19; 100 judges resigned on Sept. 21; on Sept. 23 more than 70 Customs officials were fired. Days before the fight, another 1,100 government employees were terminated.
"As the purges thinned the ranks," Quinn continued, "the visiting athletes provided Marcos with numerous ringing endorsements.
"For several weeks leading up to the match, the Marcos propaganda machine had [Muhammad Ali] at its service. Grand pronouncements about the skill and wisdom of Marcos, the greatness of his regime, and the glory of the Philippines filled airwaves and newspaper columns."
A WikiLeaks cable, which originated from the US State Department's Information and Privacy Office on September 23, also confirms this: the telegram divulged that Ali spends the same amount of time "working out" for the fight as he does "praising Marcos" in the press.
"Marcos is a great man. He is humble. He is peaceful. He is loving. I am sure he will lead his people always with the best decisions," a barong-clad Ali gushed to reporters during his courtesy call to the First Couple on September 19.
(During the press conference, where the international media "ooh'd and ahh'd" at the sight of Ali and Frazier dressed in the national attire, Imelda also effused how the two African-Americans would fit in well into Filipino life. "We have provinces here [called] Negros . . . There is no racial discrimination in the Philippines. We Filipinos think black is beautiful!" she was quoted as saying.)
"President Marcos knows how to solve the problems here better than we could. I'm sure he's doing something to help his people . . . He really is the right man for the country," Ali said in the September 21 edition of the Daily Express, sounding like a well-coached ambassador of the administration."If I were a citizen of this country, he'd be my leader for sure."
The front-page Express article, published on the same day as Martial Law's anniversary, carried a magnanimous headline: "Marcos: Ali says I'm a Miracle Man."
Seven hundred miles from Manila, in the southern island of Mindanao, Muslim insurgents were also gaining ground.
The rebel group Moro National Liberation Front (MNLF) was waging armed struggle against the Armed Forces of the Philippines, who were mired in violent conflict.
Ali, the loquacious media darling who had vocally embraced Islam since 1964, was of particular importance to Marcos in quelling the Muslim insurgency.
"White people told me Filipinos ain't no good . . . they said Filipinos hate me because I am Muslim and Filipinos are killing Muslims," a visibly impassioned Ali told reporters when he arrived. "They were all lies. Lies! I see Muslims and Christians together huggin' and kissin'."
A few days later, on September 24, Ali was bestowed an award by the first Christian-Muslim Brotherhood Congress, a hastily arranged affair at the Ortanez University auditorium, whose politically opportune theme was "friendship and understanding between Christians and Muslims."
At another ceremony in a downtown Manila mosque, where Ali was nearly mobbed to death, the Paramount Sultan of the 10 royal houses of Mindanao, Sulu, and Palawan conferred the decorated champion with an honorary title he would treasure above all else: Datu, which—in the native Muslim hierarchy—was a single tier below the noble rank of Sultan.
The newly minted Datu Muhammad Ali, however, defied Muslim and Martial law when he engaged in psychological warfare— "to frighten Frazier to death"—using a replica firing-cap pistol.
"During one of Ali's pre-dawn training sessions in Roxas Boulevard, he stopped by the Hyatt Hotel and started shouting at Frazier's window, "Come out, come out, Gorilla!" narrated veteran boxing commentator Ronnie Nathanielsz, who was Ali's "shadow" and official liaison officer in Manila.
"As the rudely awakened Frazier stepped out into his hotel room's balcony, Ali pointed the gun at him, fired some blanks, and started screaming, 'I'm gonna shoot you, Gorilla! I'm gonna kill you, Gorilla!'"
"That was crazy. It was Martial rule, he was firing a 'gun,' and it was still curfew," added Nathanielsz, who kept the pistol in a flannel pouch for Ali. "I still have a picture with him showing that toy gun and having a good laugh about it. 'I scared him, didn't I?' he said. But that was the kind of guy he was."
The September 23 WikiLeaks cable commented: "Ali's aiming of empty gun at Frazier, snapping off some 'shots,' caused great consternation in official circles, since having a gun is [illegal in] Martial Law. Official investigation resulted. Ali will confine assaults to a more deadly weapon: his tongue."
The womanizing of Ali, whose wife Belinda "Khalilah Ali" Boyd stayed home in Chicago, provided equal distraction—sometimes of soap opera proportions.
"Ali was on a secret honeymoon . . . he viewed his visit to Manila as an all-expenses paid, four-week vacation [with his mistress]," explained The Independent's Ken Jones, who was a member of the press corps that covered both the Manila and Zaire fights.
"In Zaire, he had been introduced to a stunning model named Veronica Porsche, with whom he began an affair. On the assumption that it would be a fairly easy encounter [with Frazier], Ali spent much of his time in Manila with his new girlfriend."
The 19-year-old Porsche, a ravishing Creole dancer who was one of the "poster girls" of the Ali-Foreman bout in Kinshasa, acted as the "baby sitter" to Ali's four children with Belinda during their stay in Manila. She was also sometimes referred to by Ali's entourage as "Belinda's cousin" to avoid suspicion.
Ali made a terrible faux pas, however, when he brought Porsche along as his date to the Marcoses' welcome reception in Malacañang Palace. It was swamped by the international press.
"The highpoint was when Ali introduced the statuesque Veronica to President Marcos," remembers Nathanielsz. "Marcos took one look at her and said, 'Your wife is very beautiful,' to which Ali—with a twinkle in his eye—looked at Imelda Marcos and said, 'You haven't done too badly yourself, Mr. President."
Ali did not bother to correct his flattered host, foolishly allowing Marcos to believe that he was
married to Porsche.
Their conversation was overheard by an eavesdropping Newsweek reporter, who dutifully wrote about the incident in the next issue.
In Chicago, Ali's real wife, Belinda, eventually got wind of the Newsweek story and its accompanying photographs and was suitably enraged.
Although she was aware of Ali's infidelities, she was furious at being publicly humiliated by her husband. Belinda immediately hopped on the first flight to the Philippines.
Upon arriving at the Manila Hilton on United Nations Avenue, she violently bolted into Ali's presidential suite on the 19th floor, where he was being interviewed by American broadcaster Dick Schaap for The Today Show.
Six-feet tall and with a black belt in karate, Mrs. Khalilah Ali, in her ankle-length abaya dress, "tore down drapes, smashed mirrors, and left scratches on her errant husband's face," narrated Jones.
"Belinda told him, 'Either [Veronica] goes home on the next plane, or I go home on the next plane,'" recounted Ferdie Pacheco.
All Ali said, according to Pacheco, was "goodbye."
"I can still see her now as she swept, imperiously stony-faced, into the [Hilton lobby] behind her mountain of luggage," an observer recalled. "A couple of hours later, having not even opened a single suitcase, she was on her way back to the airport and home."
The press had a field day the following morning when Ali gathered them to explain the situation. "It was the first time," The Observer noted, "that a major celebrity called a press conference to announce his marital infidelity."
"Ali is a sex symbol, everybody loves him, and you cannot stop him," a disgruntled Belinda, who landed herself on the cover of Chicago-based newsweekly Jet a few weeks later, disclosed in the magazine's interview.
Little did Mrs. Ali know that Veronica Porsche wasn't the only woman the visiting champion had his eyes on.
Two days after the historic fight, Ali was invited to a special luncheon hosted by the family of J. Amado Araneta, the owner of the Araneta Coliseum, at their Bahay na Puti residence in Cubao.
He was there ostensibly to sign a contract drafted by Jorge "Nene" Araneta and his sister, Judy Araneta-Roxas, who were going to construct the Ali Mall, the country's first enclosed shopping complex to be named in the fighter's honor. ("We didn't pay him a thing [for the use of his name]," says Joe Fores, a grandson of J. Amado Araneta, "Ali said he was just grateful to be honored.")
But the afternoon affair also gave the philandering athlete a chance to get better acquainted with a Filipina fashion model by the name of Rosemarie "Chiqui" Brosas, whom the US newswires claimed he had "fallen hard" for.
"Muhammad Ali may have been able to outpunch Joe Frazier . . . but word is getting around that the champ has been 'knocked out' by an 18-year-old beauty queen from the Philippines," divulged one daily.
An incoming student at the American University of Paris, Brosas was a fourth runner-up at the 1975 Miss Universe pageant in El Salvador earlier that year. She was also one of "Thrilla" ring girls, handpicked by pageant director Stella Marquez-Araneta herself.
"She is beautiful, beautiful, I love her," Ali was quoted as saying when he first met the Assumption Convent-educated Brosas before the bout.
A social columnist, who wrote about the Bahay na Puti function, described Brosas as "charmingly reserved under Ali's amorous attention, causing Ali to say, 'How come you don't say you love me? Why don't you say nice things to me? I'm not so bad looking."
Ali even invited Brosas, "who comported herself in the best traditions of a Filipina in the face of his verbal advances," to watch the concert of popular Motown group The Temptations with him at the CCP that evening.
"But she declined," the gossipy article continued, "because she already had a date to the same show. Ali reportedly told her, 'So you're going with somebody else huh? You're not going with me? You break it, you break it!"
"There were quite a few pretty ladies there, but he really fell in love with Chiqui Brosas," says Nathanielsz, who accompanied Ali and his entourage (which purposely did not include Porsche) to the lunch. "That was crazy, because here he was with Veronica Porsche—the girl he was later going to marry—and yet he was still trying to flirt with Chiqui and take her home with him to the US!"
A few days later, Brosas was asked by a TV reporter as to why she refused the smooth-talking celebrity's invitation and "flowery expressions of love."
"He is the best—witty, intelligent, good-looking," she remarked, before pausing, "but Belinda might get mad."
"There was another funny incident," recalls Nathanielsz. "At one of the dinner parties in Jorge Araneta's home, these five beautiful British models were so star-struck by Ali from the moment he walked in.
"So Ali and the girls talked. They made arrangements. He told them he would go to their room at the Hilton, where he was also staying, after the party.
"He called me to the side and said, 'Hey, brother, I'm gonna get rid of all my people, all my security [when we get back to the Hilton]. I'm gonna tell them I'm gonna sleep. Will you come to my suite after about 10-15 minutes and we go see those girls?'
"[So later that night] we went together to the girls' hotel room. He drank orange juice and sat on the couch, surrounded by these beautiful models.
"Do you know what he did the entire night? He preached to them about Islam! I think those girls were particularly disappointed.
"When we left the room, he pulled me aside and quipped, 'I fooled them, didn't I?'"
When Ali departed Manila on October 4, a front-page article in the Sunday Express described the scene at the Manila International Airport:
"Ali thanked Pres. Marcos, telling him, 'I love you,' and promised to return on Christmas Day. 'The Philippines—never a place so nice, the best place I've been to in the whole world,' he sighed before moving through a mob of well-wishers, kissing every woman in his way. 'What a fine place to come back to, to find me my next wife.'"
Brosas, who was also on the tarmac according to the New York Times, sent off her persistent suitor with gifts and leis. The 220-pound fighter "reciprocated with hearty kisses," before professing to her, "Ali is a lover of beauty."
The champion, the New York Times claimed, not only left the Philippines with a "shower of kisses" from women, but also "about $60 million in business deals."
"The fight took place there for one reason: Money," observed Ken Jones.
Ali was promised "$3 million from the government of a country where the annual salary of 70% of the work force was less than the price of an upper box seat—then $133," offered Oliver Teves of the Associated Press. (The ring alone, which was flown in from the US, cost $12,000.)
It was mutually beneficial.
Ali, through his New Jersey-based export firm Impro Inc., promised to act as a broker between the Philippines and the oil-exporting Arab countries in the "two-way trade of sugar and crude oil."
The day before the fight, Ali met with Trade Secretary Troadio Quiazon and Agriculture Secretary Arturo Tanco to sign a memorandum of agreement.
Assuring the two men of his "personal assistance," Ali said he would speak to the heads of state in Libya, Saudi Arabia, Abu Dhabi, and Kuwait. He even joked that he might just "quit boxing . . . and concentrate on his business" given the export potential of Philippine sugar and cement.
Ali was also the guest of honor at the ground- breaking ceremony of the Sports Center of the Philippines, a sprawling Olympic-standard sports complex that was to rise in 45 hectares of land in Bicutan in time for the 8th Asian Games in 1978.
"All money, after expenses, from the Philippines' share of the Ali-Frazier promotion will go to the Center," GAB chairman Tabuena announced to the press on October 2, adding that the projected income from the championship bout would be "at least $10 million."(Forty years have passed since "Thrilla in Manila" and no such sports complex has ever been built.)
"Everybody gained from the event—the fighters, the promoters, the fans (who got their money's worth), the Philippines itself," read the October 5 edition of the Sunday Express, which estimated the event's total revenue—including ticket sales, advertising, and TV income—to be in the range of $20 to $30 million, plus a media value of $50 million for the host country.
"No regime has more blatantly used tourism for political leverage than that of ex-President Marcos of the Philippines," wrote Dr. Linda Richter in her 1989 book The Politics of Tourism. "Although
contributed to many of the regime's political and economic objectives, it achieved those gains at enormous cost to the Filipino economy."
"Boxing abolitionists would wag their fingers at such questionable venues," shared London-based political journalist Michael Klimes, comparing Mobutu's "Rumble" with Marcos's "Thrilla."
"But a cynic with a wry sense of humor may ask what is the difference between a shrewd, self-interested boxing promoter and a bloodthirsty dictator? Not much is the answer."
It was a swinging Wednesday night scene at Malacañang Palace and the heavyweight champion of the world had just rebuffed the First Lady's request to get it down on the dance floor.
"Sorry lady, I can't dance," the fighter, famous for his in-ring shuffle, told Imelda Marcos, who was wearing a king's ransom in jewels on her ears and wrists as she boogied the night away.
Only nine hours had passed since one of the most brutal fights in boxing history and Muhammad Ali, now contemplating retirement after the toughest fight of his 15-year career, was feeling melancholic.
"Death is so near . . . and time for friendly action is so limited," he scribbled, almost cryptically, in the Palace guest book.
Hunched in soreness because of the hematomas on his hips, he sat alone in the candle-lit presidential table, looking more like the vanquished than the victor.
But this, it seemed, was not his victory alone.
Standing a few feet away was the most euphoric figure in the room, the true winner of this primal collision of corporate sport and despotic government.
Reveling in the bacchanalia as he led his Iron Butterfly by the hand to the center of the dance floor was Ferdinand Marcos, smiling and laughing and dancing like a man who had just won a multi-million-dollar bet.
Earlier that evening, a top US auditing firm appraised the fight to be worth more than $100 million ($420 million today) for the Philippines.
"Look at the President, look at him dancing like a little boy!" said an amused Ali, his dark brown eyes flickering under the disco lights. "You can't do this in the White House in America. You can't do this anywhere else in the world."
This special report, written by Rogue editor-in-chief Paolo Reyes, first appeared in Rogue's June 2013 issue. Download the digital edition at Zinio.com/Rogue or through the new Rogue App at iTunes: http://apple.co/1TOqldG.